Paulus Potter : Complete set of Sheep
De Bye Nicolas Cornelis Cornelisz. Visscher Paulus Potter
The publishing history for De Bye's etchings after Paulus Potter is well documented. Rare first state impressions lack the address of N. Visscher on the frontis-piece plate and were printed in only a handful of impressions. In the second state impressions Nicolaas Visscher's name appears. This major publisher printed editions of De Bye's sets from approximately 1660 to 1700. In 1726 Petrus Schenk acquired the plates and printed sets bearing his name along the lower margins of the frontis piece etchings. The etchings offered here below are from a state before the added address of Schenk and published by Visscher..
---
A complete series of 16 etchings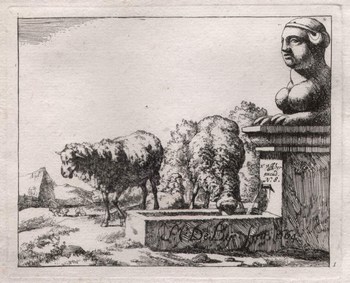 Good impressions with nice margins in a full sheets.
12 by 14,80 cm on plate border, 18 by 22 cm for the sheet.
Pasted with borders on a collectors sheet. Good condition.

A total of 16 prints
Rare to be found as a complete uniform set.
---
All these works are available for purchase.
Of course you can access larger images by clicking on the thumbnail images above.
Contact me for a price list if interested.

Below you can access detail images to see the quality of these works.